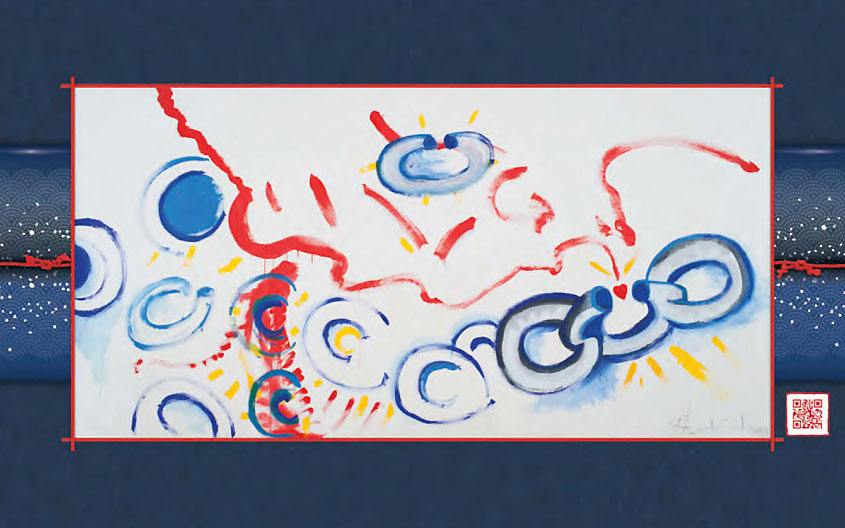 Breaking The Chain of Abuse
by Ruth Tunstall-Grant
The Artwork
The art work is from a body of artworks entitled, 'Rediscover Redirection.' It is done in acrylics on canvas which is 6ft x 8ft. It was designed to be an urban billboard to remind communities to try to be healthy and break the chains of abuses. It was part of a solo exhibition at The Triton Museum in Santa Clara, California.
Biography
Ruth Tunstall-Grant is a Bay Area artist whose work has been featured in many invitational group exhibitions as well as solo shows at national and international venues such as:

Rath Museum, Geneva, Switzerland
Triton Museum of Art, Santa Clara, California
San Jose Museum of Art, San Jose, California
Siepp Gallery, Palo Alto
Los Gatos Museum of Art, Los Gatos, California
Davis University Memorial Gallery, Davis California
Dallas Museum of Art, Dallas, Texas
Brooklyn Museum of Art, Brooklyn, New York

She received a Women of Achievement Award in the Arts in 1987 and the 1999 Dr. Alain Locke Award for "Excellence in the Arts." In 2003 she was appointed to the San Jose Art Commission. She served as Chair of Public Art for 4 years. Now, she chairs the San Jose City Hall Exhibits Committee.

Ruth just retired as founder and Director of the Art Education Program at The Children's Shelter of Santa Clara County, a program that provided fine art instruction for abused and abandoned children. The art program was awarded an NEA Taller Award as one the best art educational programs for abused children in California. Her artworks has appeared in several publications: Art International Magazine, The Bay City Times, The New York Times, The Sacramento Bee, New York Amsterdam News, The San Jose Mercury News, Metro, and Afro-American Artist.

She lives in San Jose, California has a Masters of Fine Arts from the University of Dallas.