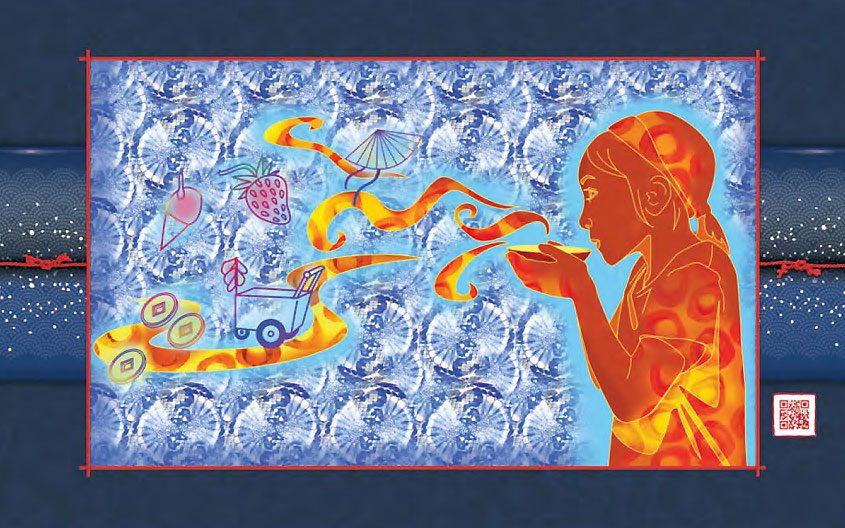 Noodle Sipper
by Corinne Okada Takara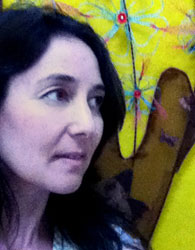 The Artwork
'Noodle Sipper' incorporates pattern designs created from images of actual local artifacts (Japanese porcelain bowl and cow bones) dug up in an archeological excavation behind the mural fence. The cow bone slices are examples of how Chinese re-cut Western meats smaller to incorporate into Chinese cooking. Many fragments of both porcelain and re-cut cow bone were found at the dig site and were graciously loaned by Sonoma State Anthropological Studies Center to be photographed for this mural design.

Noodle Sipper metaphorically bridges the past with the present and brings early Nihomachi and Heinlenville Chinatown artifacts to life in a modern day context. The girl is dressed in clothing of today and is blowing on a bowl of soup. The bowl in her hand is the pieced together bowl from the bowl artifact fragment in the pattern behind her. The soup she is cooling contains beef broth and it is echoed in the cow bone artifact pattern visible in both the steam and in the child as she drinks it. The steam itself is a connection to the past as it references the incense burned to honor and remember ancestors. On this steam are floating objects representing the life of this community past and present.
Biography
Corinne Okada Takara is an exhibiting artist and arts educator based in Cupertino, California. Takara's work examines patterns in the seemingly mundane artifacts of daily life and how these merge to reflect shifting visual vocabularies of rapidly changing communities. In her sculptural work, she blends precious fabrics, rice bags and simple discards such as food wrappers to bring to light the cascade of cultures people experienced through the sharing of food, clothing, and myths. Her large sculptures grace numerous hospitals such as Boston Children's Hospital, John Muir Medical Center, and Kaiser Permanente in California.

Since 2008, Takara has focused on designing collaborative art projects that bring people together in virtual and public spaces. She has been recognized for her technology integrated youth projects with the 2010 KCI Rambus Innovation Award, Donor Circle for the Arts Grants from the Silicon Valley Community Foundation (2011 and 2012), and with a 2011 Target Arts Grant for Remix & Reflect. Takara was honored as one of the nation's top 100 innovative K-12 educators for the You Are Here Street Banner Project in the 2011 Microsoft National Innovative Education Forum.

Takara has explored digital pattern design and textile databases as an artist-in-residence at de Young Museum, Rhythms in Space (2008-2009), in the collaborative art experiments fusionwearsv, and in the above mentioned You Are Here Street Banner Project. She had instructed art at schools and museums throughout the San Francisco Bay Area and has instructed visual thinking classes at Stanford University. In March of 2011, Takara was an invited speaker at the Royal Institute of Art in Stockholm in the Architecture Department and assisted in the workshops series Urban Tools.

Takara is a graduate of Stanford University's Art Design program and is a graduate of the Krause Center for Innovation's MERIT program.