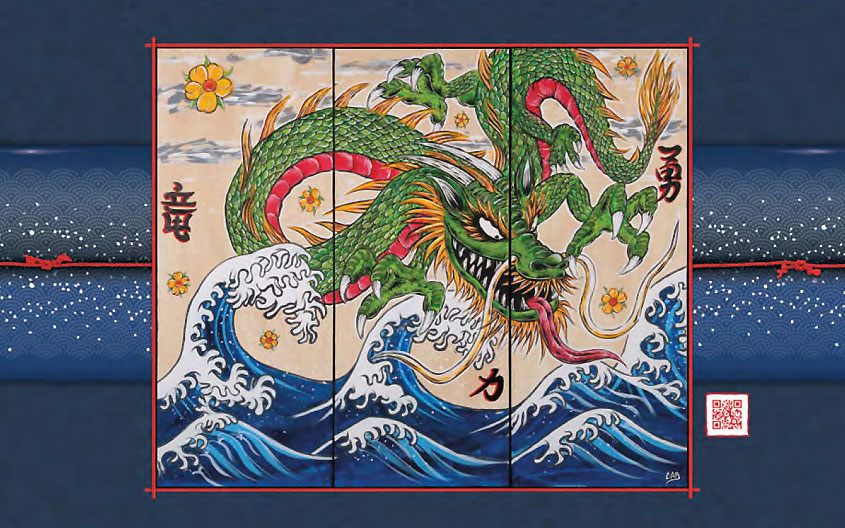 Dragon
by Steve Caballero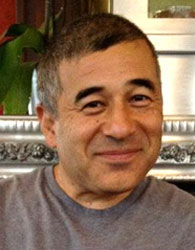 The Artwork
This piece was done on three separate canvas panels with acrylics and india ink.
Biography
Steve began skating at age 12. After skating a little over a year, he was sponsored as an amateur by Powell Peralta in 1978, a relationship that continues to this day. He turned pro with in 1980 at the Gold Cup series in Oasis.

Steve has had a storied and innovative career for over 30 years. He invented both the Caballerial (fakie 360 ollie) and the frontslide slide and roll, and once held the world record for his 11 foot backside airs on a ten foot vert ramp. He's won contests in bowls, street, vert, and park, and continues to do so, scoring big wins in 2010 and 2011 in at the Pro-Tec Pool Party and Vans Bowl-A-Rama.

In an environment where many pros will jump from team to team, Steve Caballero's tenure with his sponsors has remarkable longevity, riding for Powell for over 30 years and Vans for over 20.

Having been born in the year of the dragon, many of Steve's most iconic pro model boards with Powell had a dragon theme beginning in 1980. In 1988 he joined Vans and a year later became the second pro skater ever with a pro signature model. In 1992 a low top version, the Half-Cab debuted continuing the longest-running endorsed shoe franchise in skateboarding history.

In 1999 he was named Thrasher's Skater of the Century. In December of 2010 he was inducted into the Skateboarding Hall of Fame.

Steve currently lives in Campbell, CA with his wife Rachel and their three kids. When not skateboarding, Steve enjoys riding motocross. He also collects and restores classic american cars, primarily hot-rods and trucks whose influence can be seen in much of the art he creates as well as on the graphics of many of his decks.