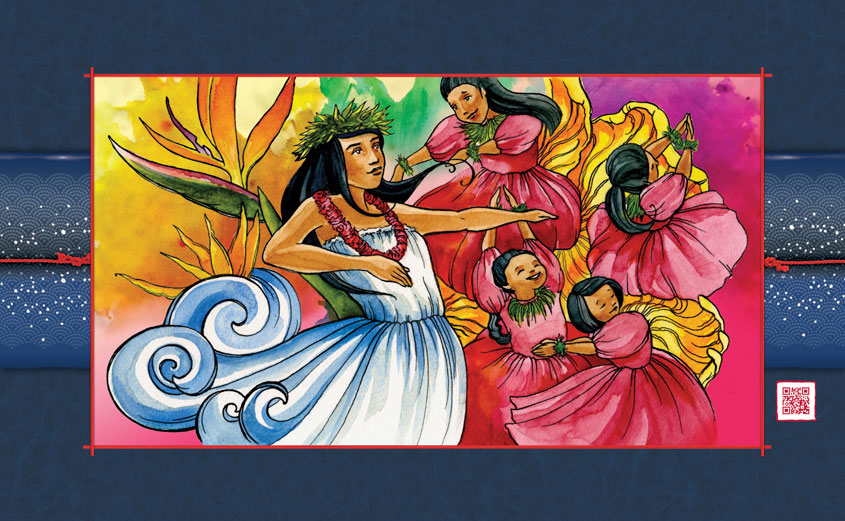 Hawaiian Dancers
by Tamiko Rast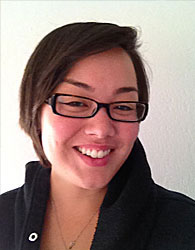 The Artwork
Hawaii's influence on Japantown has always been prevalent. Many of our ancestors were born or lived in Hawaii after leaving Japan and before living in the Bay Area. My own great-grandfather, Jack Komaji Kurasaki, was born on the big island of Hawaii in 1900.

Today, Japantown is home to several Hawaiian cultural groups, dancing "halaus," ukulele shops and storefronts. It isn't uncommon to find people playing their ukuleles outside during warm summer weather, wearing leis, or meeting up at Hukilau for some spam musubi and musical performances.
Biography
Tamiko Rast is San Jose born and raised, having spent part of her childhood running around her grandfather Roy's Mobil gas station in Japantown. She has fond memories of jumping up and down on the bell line that cars crossed, dinging to signal their arrival at the station...until Grandpa told her and her siblings to quit it.

She's lived and worked in the neighborhood for several years, appreciating the histories and personalities of the place her great-grandparents once settled. She and her brother, Miles Rast, have run the web and graphic design company, Rasteroids, for over 12 years. Her family converted Grandpa Roy's gas station into a coffee and tea shop, now known as 'Roy's Station,' which is operated by her parents and sister, Jasmine. She can often be found at or around Roy's with several of her parrots in tow.