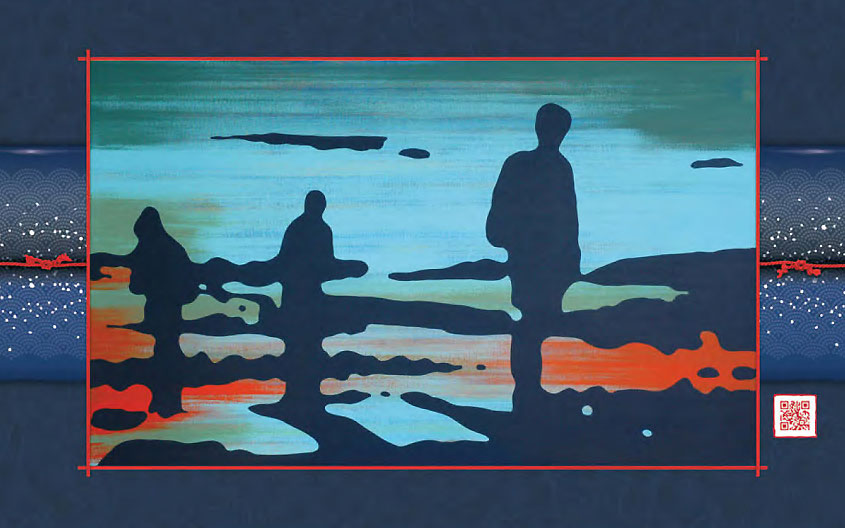 Correspondences and Elevation
by Michele Guieu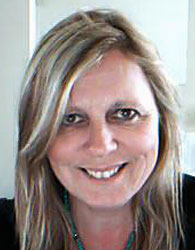 The Artwork
'Correspondences and Elevation' is part of an ensemble of large paintings celebrating nature and also questioning the ever changing relationship between nature and human beings (fear, exploitation, conservation of nature). In 'Correspondences and Elevation', people walk in empty landscapes where no constructed structures are visible. I chose this painting in the series because of the water. I was born in a port city on the Mediteranean sea and water has always been important to me. When I think about Japan, I see a unique relationship between the people, the island and the Pacific ocean, the forces of nature at work and the continuous ingenuity of the people to overcome them.
Biography
Michele Guieu was born in southern France, lived her teenage years in Senegal (Africa), travelled and moved often. She is a graduate of the École Nationale Supérieure des Arts Décoratifs de Paris (MA Graphic Design), Paris, France.

She has been a graphic designer for many years when she lived in Paris, where she worked for non-profit organizations and museums. She also exhibited her work in Paris and Copenhagen, before moving to the US in 2000. She is a San Diego Art Prize 2009 nominee in the Emerging Artists Category. Guieu had solo exhibitions at Art Produce Gallery, The San Diego Art Institute and Project X Art in San Diego. She participated in shows at the California Center for the Arts, the Oceanside Museum of Art and the William Cannon Art Gallery. She was invited to the "Summer Salon Series" at the San Diego Museum of Art in 2010.

Michele Guieu lived and worked in San Diego for six years and moved to the bay area in 2010. She is one of the artists of Kaleid Gallery, has participated in the SubZERO festival in 2012 and the Phantom Gallery program in San Jose. She participated in 'Currents 2012: the Santa Fe International New Media Festival' in 2012.

The "notes" she takes on a daily basis - photos and video footage – and then transforms digitally and paints or edits, constitute the base of her work. Through her installations, her work weaves personal events (the landscapes where she lived and that she visited, her family, are recurrent themes) with much larger ones (her take on biodiversity, ongoing wars, Evolution).

In her installations Guieu uses both traditional and nontraditional medium: murals and paintings, drawings, video, and photography. Also prints, furniture, decals, and found objects. Some parts of the installations, like the murals, are ephemeral. Drawings and paintings go usually by series that she re-organizes and develops through time.