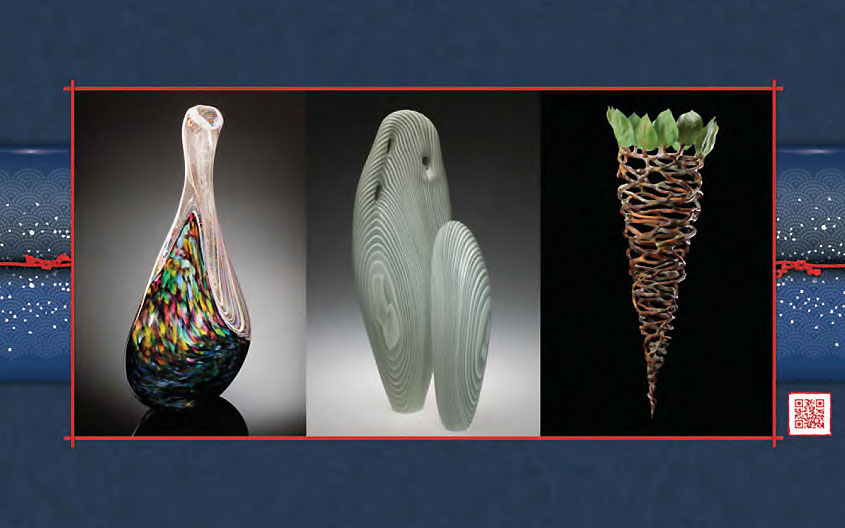 by Bay Area Glass Institute: Rich Small, Treg Silkwoodglass and Kathleen Elliot
The Artwork
The Bay Area Glass Institute is the only public access glass studio in Santa Clara County. Our mission is to make the celebration of glass art accessible to all and to provide continued and educational growth artist, patrons and the community.
Biography
KATHLEEN ELLIOT

Kathleen Elliot creates sculptures out of flameworked glass, using a vocabulary of botanical forms, including leaves, flowers, fruit and vines. Her work has moved from the representational to the imaginary, in which plant forms incorporate human characteristics and convey a sense of alternative realities.

Elliot's sculptures gained immediate recognition through many awards and articles, and are exhibited in museums, art centers and galleries across the U.S. including the Oakland Museum of California, Pensacola Museum of Art, Ellen Noel Art Museum, Kentucky Museum of Art and Craft, Triton Museum of Art, National Liberty Museum, Ringling College of Art and Design, The Washington Pavilion of Arts and Sciences, Sculptural Objects and Fine Art in Chicago, Davis & Cline Gallery in Ashland, Oregon, Micaëla Gallery in San Francisco, and PISMO Art Glass in Denver and Vail, Colorado. She has taught at Pilchuck Glass School, as well as at Glass Art Society conferences, and has guest lectured at the San Jose Museum of Art, and Ohlone College in Fremont. Elliot served on the board of the Glass Alliance of Northern California, and is a current board member of the Bay Area Glass Institute. She currently studies art at De Anza College, resides and operates a studio in Cupertino, while happily married, with five children.