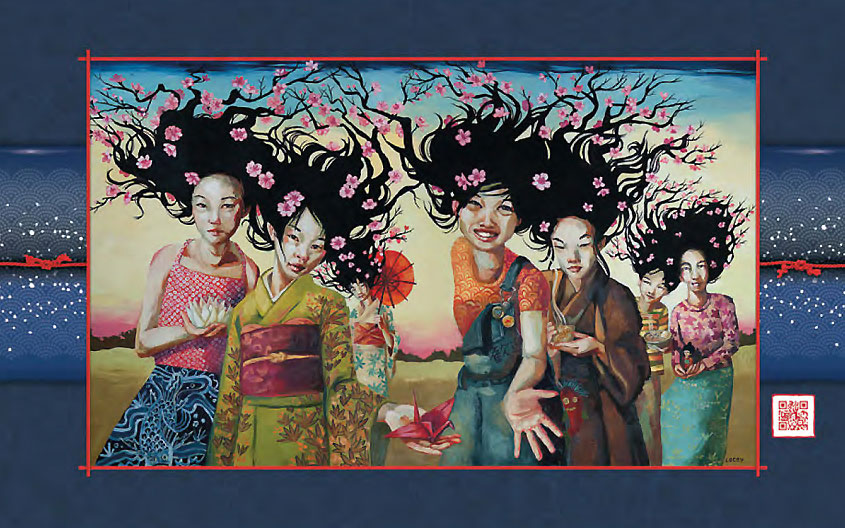 The Sakura People
by Lacey Bryant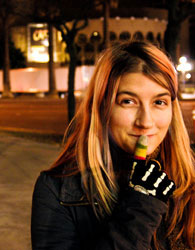 The Artwork
I wanted this work to extend a feeling of welcome to visitors and residents alike. The people in the piece are dressed in the rich textiles of Japan and represent a variety of walks of life, each offering some aspect of Japanese culture, inviting the viewer to experience all that they have to offer. The people in the image are different but connected by the heritage that they share.
Biography
Lacey's work hinges on a subtle tension between beautiful and unsettling elements. Though the settings are usually very light and airy there is a certain heaviness in the atmosphere and a distinct melancholy about the girls with wild hair and confrontational stares. We are presented with things we are uncomfortable with-spiders, holes, cracks and decay. The use of symbolism gives her work a universal language although many of the symbols can be interpreted in several different ways. Certain motifs are repeated throughout the works such as birds and insects, roots, branches or veins, string, theatre curtains and abandoned objects. Often emitting from the haunting subjects of her work, these symbols represent desires, feelings and afflictions.

Lacey lives in Japantown San Jose where she paints almost every day. When she isn't painting, she likes to go hiking, knit, play with her cat, Hecubus and eat cupcakes. She also paints scenery for theatre and haunted houses.