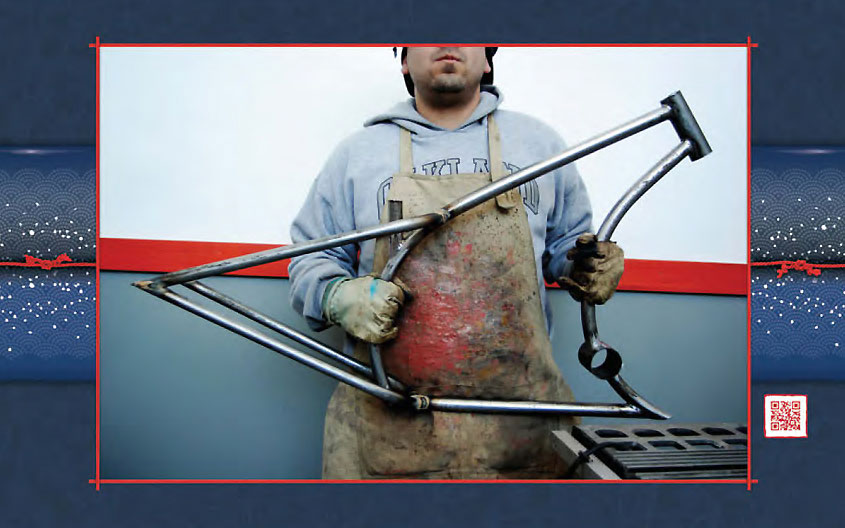 Raw Material
by Abraham Menor
The Artwork
Matthew Rodriguez, of Pops Fabrication, is holding a raw "Ping" bicycle frame he fabricated and built himself.
Biography
Abraham Menor is a community organizer/worker and photographer based in San Jose, California. Menor graduated with a bachelor's degree in sociology from California State University at Hayward. When he is not working as a "at-risk" youth worker, he is armed with his camera, ready to capture the next fleeting moment. His love for the camera began in the 90's. His subject matter was initially graffiti. Menor sought to document the culture surrounding such an art form. Shortly, thereafter, he developed a passion to document his daily interactions, with people, places, and things. Menor's goal is to tell stories using his camera.

With a background in sociology and a love for photography, Menor realized that he can combine the two together. The result is photography that analyzes and examines human social behavior and society. In the past he has documented various social and political movements. Menor also documents Hip Hop culture and different sub-cultures of the streets. These two cultures have greatly influenced the manner in which Menor captures and documents an image. As a participant and observer, Menor is able to capture moments that are fresh and raw yet honest and real.
Cultural Relevance
Japantown is a home to Phil Wood & Company and Pops Fabrication, two influential bicycle/parts manufacturers.